Market International Panorama Of Investments In The Education Sector
Since 2006, more than US$ 9.86 billion have been invested in the training sector worldwide, with about US$ 3.6 billion invested only in 2015, through 340 funding rounds that have taken place between January 2014 and February 2016.
The most active funds -that have invested more money- were:
500 Startups (which has invested in Coursebase, Udemy, and Descomplica).
Imagine K12 (which has invested in Remind, CodeHS and Codeable).
Learn Capital (which has invested in Edmodo, Brightbytes, and General Assembly).
The most important investments between the months of December 2015 and February 2016 have been received and made by the following companies: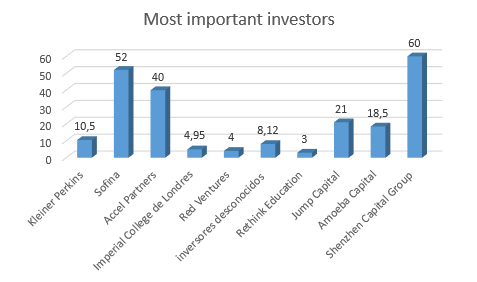 (Figures in millions of dollars)
Important Facts 2015/16
TutorGroup, a provider of language online education based in Shanghai, collected nearly 200 million dollars in 200 rounds of Series C, granted by a sovereign fund of Singapore called GIC, with validation of Goldman Sachs up to one billion dollars.
Varsity Tutors, an online platform that connects students with tutors to face-to-face and online training, reached 50 million in a round of Series B ceded byTechnology Crossover Ventures.
Instructure, a provider of cloud-based Learning Management Systems, turned to the public sector on December 13th, 2015.
Apple buys the education startup LearnSprout.
Around 2200 companies have been funded in the past 10 years, with about 340 companies financed in 2015.
The number of companies funded in the last 10 years has had an upward trend, with more than 653 companies financed in 2014-2016.
According to the trend followed in the funded companies, online courses are the most popular, with more than 60 companies created in 2016.
Mentoring and technology are close behind, with more than 50 companies created on each.
The distribution of funds in tutoring has been uneven, with funds backed by well-established companies, such as the Guardian Group.
The edutainment and collaborative training platforms have been very busy, with about half of their companies created in 2015.
Since 2006, nearly US$ 9.9 billion were invested in the education sector in 2053 funding rounds.
Since 2006 about US$ 9.9 billion have been invested, with more than a third of the amount invested only in 2015.
Total funding in the sector has maintained an average increase year after year from 75% in 2015 and 2016.
Purchases have increased, with nearly 450 mergers and acquisitions in 2015.
Sphero, AltSchool, and Minerva Project have been some disruptive models that have attracted everyone's attention through their unique educational proposals. They have received funding from Mark Zuckerberg, the Bill & Melinda Gates Foundation, and Walt Disney.
Location Of Investments In The Education Sector
The educational technology sector has seen increasing funding year after year, with US$ 1.85 billion invested in the US in 2015.
China has received an increase in funding of 1710 million in 2015.
The most active investors in China have been TAL and Sequoia Capital.
India has also seen an increase of funding in the sector, with funding of US$ 71 million through 32 deals.
Sector Analysis – Educational Technology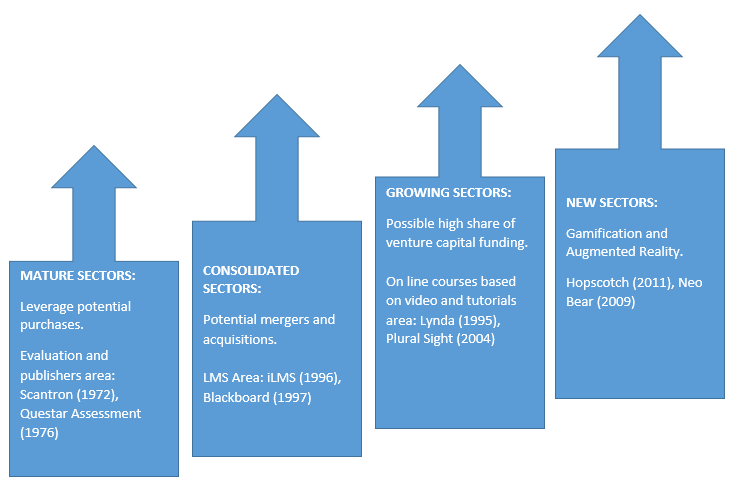 Market Map – Educational Technology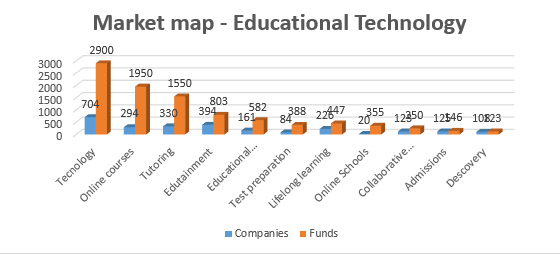 (Expressed in number of companies and millions of dollars invested)
Within the educational technology sector, the area with more companies and more investment is technology, followed by online courses and tutorials. Lastly, it is the area of Discovery.
Market Map – ICT Education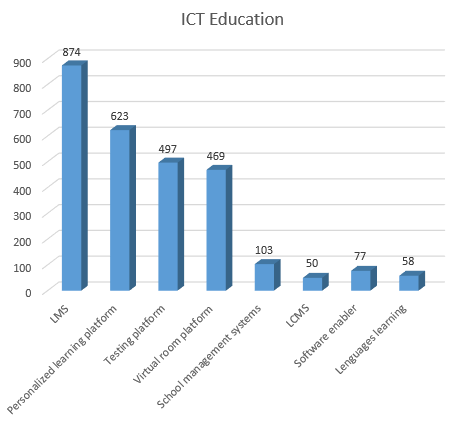 (Figures in millions of dollars)
In ICT education, the area with more investment has been that of the Learning Management Systems, followed by personalized learning platforms and evaluation platforms. Learning languages has been the area with less investment.
Market Map – Self Learning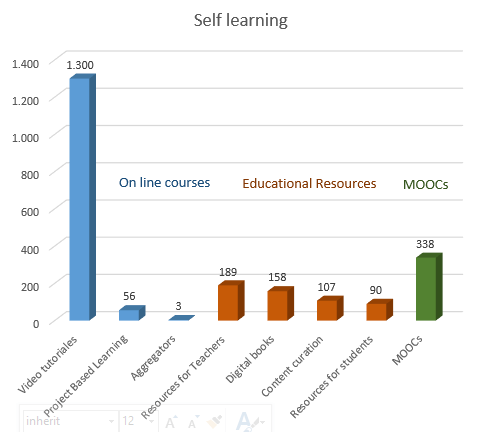 (Figures in millions of dollars)
Within the area of online courses, video tutorials have received a much higher investment than other projects, followed on the second place by the area of MOOCs and the area of educational resources, with resources for teachers in the third place. The project that has received less investment has been the aggregators.
Market Map – Tutorials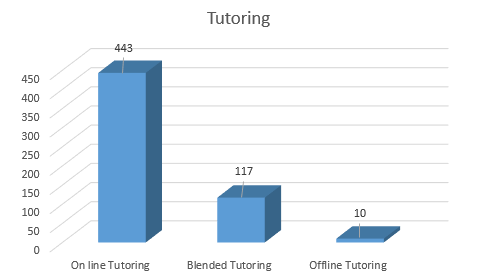 (Figures in millions of dollars)
Online tutoring based projects are those that have received most investment, followed by blended mentoring based on the second place and tutorials offline in the third place.
Market Map – Edutainment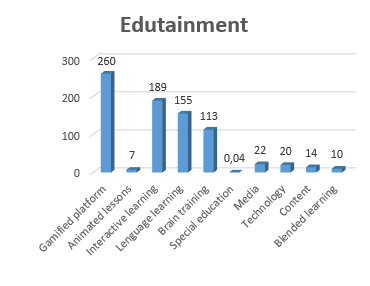 (Figures in millions of dollars)
Within the edutainment sector, the projects with more investment have been the gamified platforms, interactive learning, and language learning. Projects that have received less investment have been related with special education.
Market Map – Continuing Education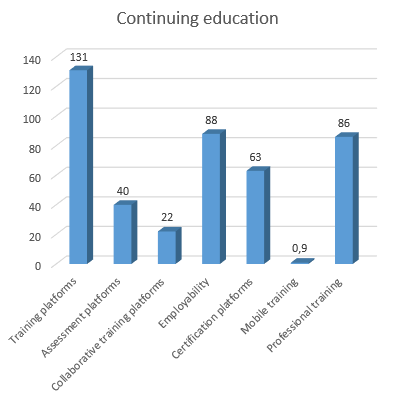 (Figures in millions of dollars)
The projects that have received the higher investment were related to training platforms, followed by employability in the second place, and by vocational training in the third place. Finally, training in mobile is the area that has received less investment.
Market Map – Miscellaneous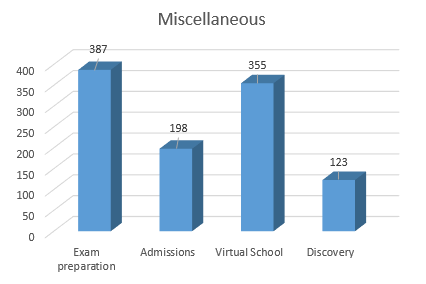 (Figures in millions of dollars)
The area with the greatest investment is the test preparation, followed by virtual schools and admissions. Lastly, it is Discovery.
Evolution Of The Sector: Technology
1968: Ellucian is founded: It is the first SMS company in educational technology.
1997: Blackboard is founded.
2000: Brainshark is founded: First funding in educational technology. 14 million obtained in series B.
2004: HotChalk is founded: The company increased funding: US$ 235 million.
2006: Mathsoft is acquired by PTC: First acquisition.
2008: HotChalk achieves its first funding: 5 Million are obtained.
2009: Rosetta Stone is made public. First public offering. IPO price: 115 million.
2014: EmpoweredU was acquired by Qualcomm per one billion dollars. BrightSpace exceeded US$ 100 million financing. They earned $ 85 million in Series B. 2U is made public. The IPO price is 119 million.
2015: Instructure is made public. IPO price: $ 4.4 million.
Evolution Of The Sector: Self-Learning
1988: Achievement is founded: First company in educational resources.
1995: Lynda is founded. Company founded with the highest funding: $ 289 million.
2004: Pluralsight is founded.
2006: Rootdown obtains financing. A round of financing business angels is obtained.
2010: Edufire was acquired by GEC-inc.
2013: Lynda obtains financing for $ 103 million.
2015: Lynda is acquired by Linkedin.
2016: Udacity begins courses in Nanogrado. The certificate is granted by business partners.
Evolution Of The Sector: Tutorials
1996-2000:
Learning through electronic whiteboard (NetTutor, 1996).
Based chat (e-Tutor, 1997).
VoIP (Guardian, 1998).
2000-2010:
Based on video using Skype (Growing Stars, 2004).
Face tutoring market (WyzAnt, 2005).
Questions and answers forum (Transtutors, 2007).
2010-2015:
Web-based on-demand (InstaEDU, 2011).
App based on demand (Gotit!, 2011).
Offline tutoring market based on app (StudyTree, 2014).
Evolution Of The Sector: Edutainment
1984: Gazoob: Creating the first edutainment company.
1989: Knowledge Adventure: Creating the largest edutainment company based on the user.
1995: Noggin: Creation of the first television subscription-based online show.
1999: Cognifit: Creation of the first brain training company.
2001: StudyCat: Creation of the first language teaching educational game company.
2004: Knowledge Adventure: Was divided into Jumpstart and MathBlaster.
2008: FitBrains: First company to receive more than one million dollars.
2010: Skill-life: Bought by BancVue. First acquisition.
2011: Duolingo: Financing of the company that more funds has obtained so far.
2015: NeoBear: Company with products based on Augmented Reality gets a series A of 18.7 million.